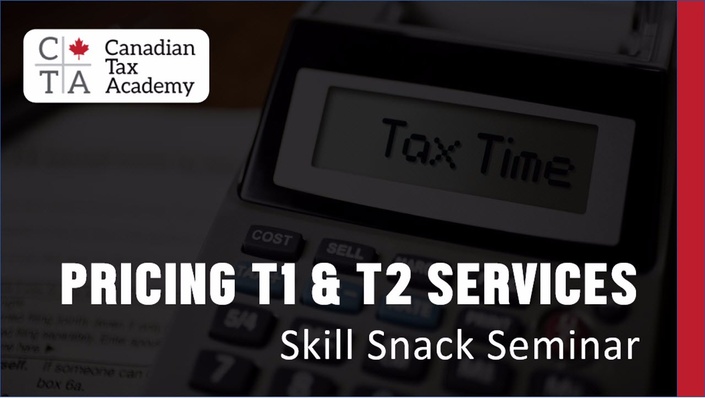 Pricing Your T1 & T2 Tax Services
How To Determine & Set Your Tax Preparation Fees
NOTE: This skill snack series was first presented in the Tax Bytes Practice Mentor video newsletter. It is still available to all new subscribers and those who have All Access Membership.
So you've decided to hang your shingle and start a tax preparation service business. You have the software, the training, the shiny new computer and fancy digs to get going. Now you get that very first phone call and the person on the other end asks you …. "How much do you charge for doing taxes"?
Well, if you haven't given it any thought, you'll likely freeze on the spot, wishing you had given it more thought or that you can pause the phone call and ask a mentor to help you out. Well, let me be that mentor for you.
I have been in the accounting and tax preparation business for over 20 years and have struggled through the choices and problems related to figuring out how much to charge clients. This is not just a problem you face when you first start out in business. It is something that you have to address and tackle constantly as your business evolves, and tax legislation becomes more and more complicated and your work load increases.
Let me guide you through my pricing methodology and thought process when pricing my services. I have been through it all and tried everything. I have made all the dumb mistakes and luckily I have learned from them. In short, I will show you what works, and what doesn't work.
Best of all, there are no complex formulas or spreadsheets, no algorithms or intricate pricing models, just useful and effective mental processes and simple exercises that you can go through in order to determine the right fees for your services.
Is this an important skill? Absolutely. If you price your services too low, then you will be doing a lot of work for less money which is the recipe for burnout in any accounting or tax business. If you price yourself too high, then you could be missing out on a lot of easy work with a high margin or hourly rate. Part art, part science, I will tell you what you need to consider.
Over the years, I've come to realize that asking accountants how much they charge was the equivalent to asking someone their age or weight. It was always met with a 'death glare' and often a scolding remark from the practitioner. Well, I won't do that … and yes, I will actually tell you how much I charge.
This is the information I wish I had when I first started out in public practice and tax preparation. I'll pack up 20 years of experience into this short Skill Snack seminar where you will:
- Learn about pricing methods that are used by all accountants and which ones to avoid so that your potential clients and referrals don't run for the exits
- be able to determine whether or not you are priced too low, or too high compared to your competition or colleagues, including the simple exercise you need to go through before you start your practice or to analyze the one you currently have
- find the right balance between pricing and work to be done so that you don't dig yourself a hole and burn out after your first tax season. The worst thing you can do is try to drum up business with low pricing and then kick yourself for having to do too much work for little pay.
- be able to price your corporate service package including everything from corporate T2 returns, to GST/HST reporting, payroll and other services. Pricing T1 and T2 services are two completely different animals.
When you are finished this course, you should have enough information to at least tackle the question of what to charge intelligently and effectively.
See you on the other side!
Ian DiNovo, CPA CGA
Director - Canadian Tax Academy
Your Instructor
Ian DINovo is a professional accountant and Director of the Canadian Tax Academy. He has been practicing accounting and offering independent financial and business advice for over 15 years.
He is the creator of a number of courses dealing with business, tax and investment matters that are designed to make difficult topics easy to understand for everyone.
Course Curriculum
Pricing Your Personal Tax Services - T1 Return Fees
Available in days
days after you enroll
Corporate Services - Determining Your Fee Structure
Available in days
days after you enroll
Frequently Asked Questions
When does the seminar start and finish?
The seminar starts now and never ends! It is a completely self-paced online course - you decide when you start and when you finish.
How long do I have access to the seminar?
The seminar will remain available to you as long as the content is relevant and up to date. If any significant legislative changes are made, the content will either be updated or removed.
How long is the seminar?
This seminar is approximately 80 minutes in length. presented in 9 bite-sized tutorials
This course is closed for enrollment.