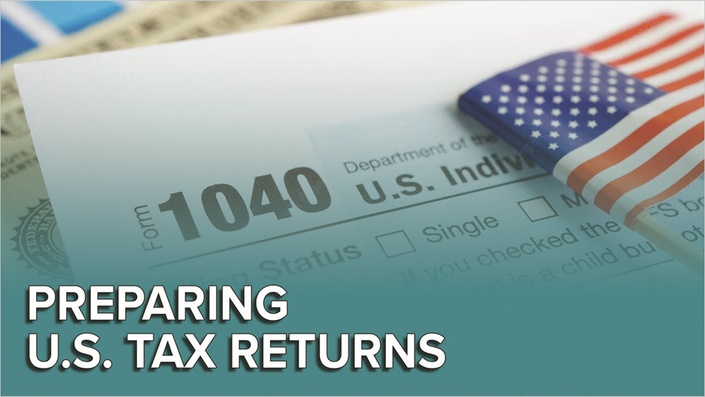 Preparing U.S. Personal Tax Returns - Introductory Course
Comprehensive online U.S. personal tax course - Preparing 1040 Returns
Watch Promo
USE IT AS A VALUABLE TAX RESOURCE ALL YEAR ROUND - THE INSTRUCTIONAL APPROACH USED IN THIS COURSE IS EVERGREEN.
WE TEACH YOU ABOUT US PERSONAL TAX & PREPARING 1040 RETURNS, REGARDLESS OF THE YEAR YOU ARE PREPARING.

CPD HOURS FOR THIS COURSE - 11 VERIFIABLE HOURS FOR CPA CPD PURPOSES
SCROLL DOWN THIS PAGE TO SEE THE FULL CURRICULUM (CLICK THE DOWN ARROW TO EXPAND THE BOX) & TO WATCH PREVIEWS OF VARIOUS TUTORIALS IN THE COURSE
Are you a Canadian accountant with some Canadian tax experience looking to obtain some knowledge on preparing US tax returns? Or maybe just someone who is interested in US taxes and how they do things south of the border? Are you someone who is curious about the differences between US and Canadian tax laws?
If so, then this introductory course is a great starting point for your journey into understanding US tax returns and rules for our good friends just south of the border.
Having a solid understanding of Canadian tax rules and laws can seem pretty daunting and is difficult on its own. Preparing personal US tax returns can seem even more intimidating. However, as is the case with Canadian T1 returns, if you study & learn about 20% of US tax law, you will be able to prepare about 80% of personal tax returns.
Most Americans have relatively simple tax matters. With the help of this course you will be able to complete your own US tax returns, or the tax returns for your family or tax clients, with ease.
You will learn everything you need to know on how to prepare the majority of tax returns you will encounter in a small US or Canadian tax practice.
In this course, you will be able to look over the shoulder of a professional CPA with thousands of US tax returns under his belt. The course is built on practical experience combined with recent academic studies and up to date knowledge from challenging exams for multiple designations. The goal is to provide you with the practical, real-world examples and issues that you will encounter in your everyday life and practice.
The course is presented in bite sized tutorials. Watch the course in its entirety or only those tutorials that apply to your situation or your client. If things change in the future, just come back, log in and study the content that you need to know for your new situation. It's dead easy to find the tutorials that relate to what you're looking for.
So whether you want to learn about tax to minimize your tax liabilities and save a few dollars for your family, or if you want to begin your journey in the rewarding field of personal income tax preparation, then you have come to the right place.
This course would be a great asset and resource for any of the following people:
1. The CPA Student – If you are a student in tax and accounting working towards your Canadian CPA designation, then this would be a great add-on course to enhance your skill-set and impress potential employers. This will give you a major advantage over your competition and give you the inside track on getting that lucrative job at your preferred firm.
2. The Professional Looking To Get Into Public Practice or Tax Preparation – If you are already a Canadian tax professional and perhaps looking to change or enhance your career and revenue by preparing US tax returns, then this course will serve as a good starting point and provide necessary guidance and skill to make the jump.
3. The Bookkeeper Looking To Build Their Business – If you are a bookkeeper, you already have your hand on the pulse of your clients. You probably deal with a number of accountants on year-end personal tax planning and work. Why not build your own "1040 Chops" and either do the US returns yourself, or at the very least be able to keep up with those US accountants and know what's going on?
4. Accounting Firms Looking For U.S. Tax Training Options – Do you run or manage an accounting firm and find it hard to find time to train that new and fresh 1040 staff? Well, look no further as this course can take care of that for you. 24/7 access to all the course tutorials so your staff can find answers to questions easily without having to eat up senior staff time.
5. Professionals looking for verifiable CPD hours - The courses at Canadian Tax Academy are verifiable hours for CPD reporting purposes. Upon completion of a course, you will receive a certificate.
For a detailed listing of the course content, just scroll down and look through the curriculum. Remember to click the little arrow below the listing to see the entire course tutorial listing.
Your Instructor
Mark Fehrman is a professional accountant and owner of KIS Tax Services Professional Corporation located in Fort Erie, Ontario.
Mark's passion for the industry came from helping on his parent's farm and learning the importance of numbers when making sound financial decisions.
After graduating from The University of Waterloo, Mark's career led him to focus on Cross Border Taxation. Since Mark is a citizen of the United States, this area of tax is personal to him. It is his mission to inform the public on how to navigate the complexities of Cross Border Taxation. 
Frequently Asked Questions
When does the course start and finish?
The course starts now and never ends! It is a completely self-paced online course - you decide when you start and when you finish.
How long do I have access to the course?
Your access depends on whether you purchase this course outright, or whether you are a member of one of your All Access plans. If you directly purchase this course, you have unlimited access to it for the lifetime of the course, including all future updates - across any and all devices you own. If you are a member of one of our Annual Membership Plans, then you will have access to the most current and up-to-date version of this course for the duration of your membership.
What if I am unhappy with the course?
We would never want you to be unhappy! If you are unsatisfied with your purchase, contact us in the first 30 days and we will give you a full refund. However, once a certificate has been issued to you, a refund cannot be requested even if you are withing the 30 day period
How often is the course updated?
The course is updated on an annual basis to keep up with changing tax legislation. We also update the course with any new budget information that is important to the course content throughout the year when applicable. Once you sign up for the course, you will have permanent access to all the tutorials, including updates.
How is the course taught?
The course is presented though a series of bite-sized tutorials. This allows students to do 2 things. First, they can learn the concepts at their own pace. Second, they can come back and easily find a tutorial when they need a refresher. This also allows the instructor to easily update the course when there are changes.
Are there any tests, quizzes or exams?
No. This is not a certification course. It is for your own self-development and will be a valuable asset in your tax aresenal not only now, but in the future as well. There are no tests or exams to pass.
Is this course eligible for PD credits? Do you issue certificates?
Yes, this course is eligible for 11 verifiable CPD hours for CPA professional development purposes, and a certificate will be generated and available to you upon completion of the course.