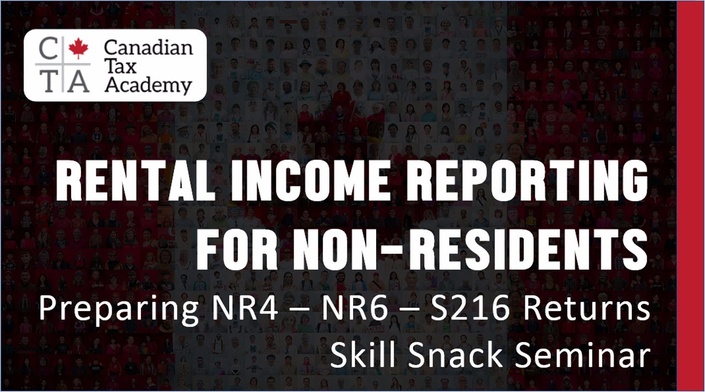 Rental Income Reporting For Non-Residents
Process & Reporting For Non-Residents With Canadian Rental Income - NR4 - NR6 - S216
NOTE: This skill snack series was first presented in the Tax Bytes Practice Mentor video newsletter. It is still available to all new subscribers and those who have All Access Membership.
For more information and subscriptions to the Tax Bytes Video Newsletter, click here
If you are a non-resident of Canada with Canadian source income or you are a practitioner or tax preparer, then you need to be aware of the reporting and filing requirements for non-residents of Canada who have property in Canada and earning rental income.
Many Canadians may decide at some point in their lives to leave Canada and take up residency somewhere else. It could be the snow bird who decides to become a US resident or someone who retires and heads back to their home country. Many of these former Canadian residents decide not to sell their home or other properties in Canada and supplement their income.
We are also experiencing a large number of foreign investors purchasing property in Canada and renting out those properties.
In either case, those investors who are not resident in Canada have special and unique filing obligations in Canada. If they do not meet these requirements, then they will be surprised to get an assessment from the Canada Revenue Agency (CRA) for 25% of their gross rental income.
In this Skill Snack seminar, I explain the requirements necessary for these non-residents which include:
Filing an NR6 Undertaking by the required due date
Maintaining a non-resident NR4 account along with filing NR4 slips and NR4 Summary at the end of the year
Filing a personal tax return (under Section 216) on an annual basis
If you are a practitioner in public practice or a tax preparer, dealing with non-residents can become a profitable service offering for your business. Once you are aware of the rules and what needs to be done, you can easily help clients navigate what would otherwise be a maze of complicated filing requirements that they would rather not take on themselves.
Look over my shoulder as I explain the requirements and forms to you one by one. We will also go through an example so that you can solidify your understanding of what needs to be done. When you have completed this seminar, you will have a solid understanding of the filing requirements along with the process and necessary forms prescribed by the CRA.
Your Instructor
Ian DINovo is a professional accountant and Director of the Canadian Tax Academy. He has been practicing accounting and offering independent financial and business advice for over 15 years.
He is the creator of a number of courses dealing with business, tax and investment matters that are designed to make difficult topics easy to understand for everyone.
Course Curriculum
Overview of the System & How it Works
Available in days
days after you enroll
Step By Step Process Explained
Available in days
days after you enroll
Practical Example & Agent Duties
Available in days
days after you enroll
Frequently Asked Questions
When does the seminar start and finish and how is it presented?
The seminar starts now and you can access the content anytime you wish! It is a completely self-paced online seminar that you can use as a reference. It is presented in bite sized tutorials that you can easily access and reference later if you need a refresher.
How long do I have access to the seminar?
The seminar will remain available to you as long as the content is relevant and up to date. If any significant legislative changes are made, the content will either be updated or removed.
How long is the seminar?
This seminar is approximately 70 minutes in length. presented in 11 bite-sized tutorials
This course is closed for enrollment.