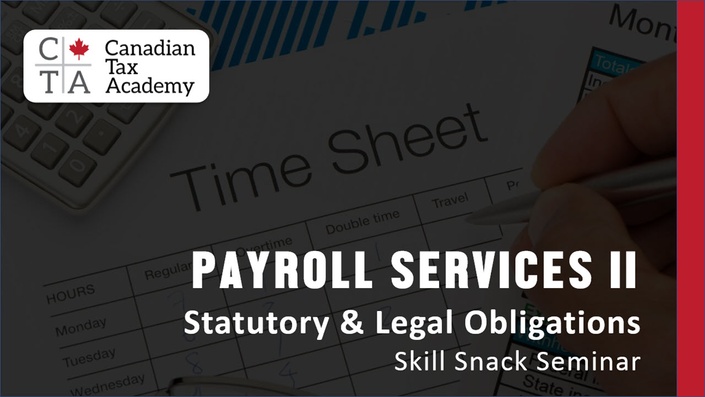 Payroll Service 2 - Statutory Obligations
Dealing with CPP, EI, WSIB, vacation & severance in the payroll process
NOTE: This skill snack series was first presented in the Tax Bytes Practice Mentor video newsletter. It is still available to all new subscribers and those who have All Access Membership.
In this Skill Snack, we expand on the concepts studied in the Payroll Services 1 Skill Snack and take a closer look at statutory obligations that must be met by employers.
This Skill Snack covers the following topics that are a "must-know" for accountants, bookkeepers and tax preparers who process and administer payroll for their small business clients.
1. Canada Pension Plan (CPP) - We examine how the rates are calculated on payroll along with who is exempt and the critical form that needs to be filed for those employee who are eligible to opt out.
2. Employment Insurance (EI) - A look at how EI premiums are determined along with the rules for the exemptions for EI and how to obtain rulings from Service Canada for related or non-arm's length employees.
3. Workers Compensation - A primer on the WCB/WSIB for the provinces. What it is, who it covers, the benefits to employers and employees and finding the applicable rates for industry classes.
4. Employer Health Tax (Ontario) - For larger businesses, we review the EHT registration requirements and rates for Ontario based corporations.
5. Vacation Pay - often overlooked by new payroll processors we review the rules applicable to vacation pay obligation to employers. Also examined are the different methods of paying and administering vacation pay.
6. Severance Pay - Inevitably you will come across employers who are forced to lay off employees. In this tutorial we look at the legal obligations of paying severance. This is a great foundation for understanding some of the legal implications of laying off employees.
Also covered in this series is how to prepare journal entries for payoll transactions. We will show you the easiest way to book journal entries for those small business clients so that you can save time on client files and not have to go through an overly tedious process.
This is the second in a series of Skill Snacks to be released covering payroll. We start with the basics, and then build in complexity.
Your Instructor
Ian DINovo is a professional accountant and Director of the Canadian Tax Academy. He has been practicing accounting and offering independent financial and business advice for over 15 years.
He is the creator of a number of courses dealing with business, tax and investment matters that are designed to make difficult topics easy to understand for everyone.
Frequently Asked Questions
When does the seminar start and finish?
The seminar starts now and you can access the content anytime you wish! It is a completely self-paced online seminar that you can use as a reference. It is presented in bite sized tutorials that you can easily access and reference later if you need a refresher.
How long do I have access to the seminar?
The seminar will remain available to you as long as the content is relevant and up to date. If any significant legislative changes are made, the content will either be updated or removed.
How long is the seminar?
This seminar is approximately 80 minutes in length. presented in 12 bite-sized tutorials
This course is closed for enrollment.