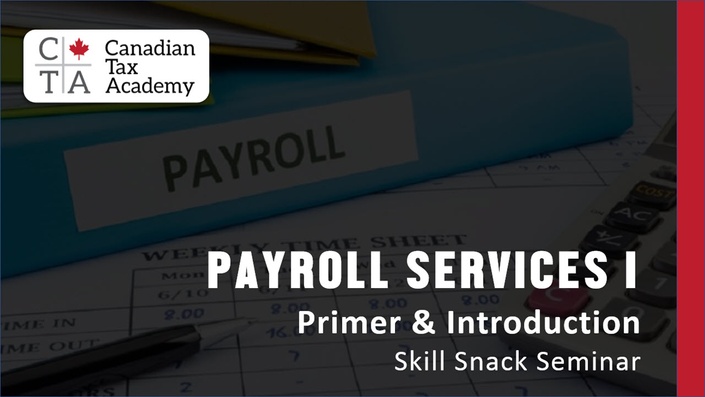 Payroll Service 1 - Payroll Basics
Offering Payroll Services to Clients - How to Setup & Administer Payroll
NOTE: This skill snack series was first presented in the Tax Bytes Practice Mentor video newsletter. It is still available to all new subscribers and those who have All Access Membership.
Many practitioners are asked to provide payroll services to their small business clients but don't know where to begin. Others wish to supplement their practice's income with a payroll service which also serves as a great way to get additional corporate and personal tax return business. That being said, many new practitioners don't know where to begin. Well, that is what this, and upcoming, Skill Snack seminars is all about. Setting up, administering and delivering a payroll service to clients.
This Skill Snack seminar will take you through the basics of offering the service to clients and what you need to consider when offering these services.
A review of the 4 phases of the payroll cycle including:
1. Client Interview - Gathering information from the client and what you'll need
2. Process Payroll - Doing the periodic payroll - How to calculate deductions and determine net pay
3. CRA Remittance - What to remit to the Canada Revenue Agency (CRA) and when
4. Year end Reporting - Preparing T4 slips for employees along with the T4 Summary for CRA
After we go through the ins and outs of what's involved in each of the above phases, I take you through a simple example of payroll from beginning to end, including the process of determining the statutory deductions and consequent net pay for a 2 employee payroll, all the way to the end of the process where we prepare the T4 slips and T4 Summary for these employees.
This is the first in a series of Skill Snacks to be released covering payroll. We start with the basics, and then build in complexity.
Your Instructor
Ian DINovo is a professional accountant and Director of the Canadian Tax Academy. He has been practicing accounting and offering independent financial and business advice for over 15 years.
He is the creator of a number of courses dealing with business, tax and investment matters that are designed to make difficult topics easy to understand for everyone.
Frequently Asked Questions
When does the seminar start and finish?
The seminar starts now and you can access the content anytime you wish! It is a completely self-paced online seminar that you can use as a reference. It is presented in bite sized tutorials that you can easily access and reference later if you need a refresher.
How long do I have access to the seminar?
The seminar will remain available to you as long as the content is relevant and up to date. If any significant legislative changes are made, the content will either be updated or removed.
How long is the seminar?
This seminar is approximately 80 minutes in length. presented in 11 bite-sized tutorials
This course is closed for enrollment.