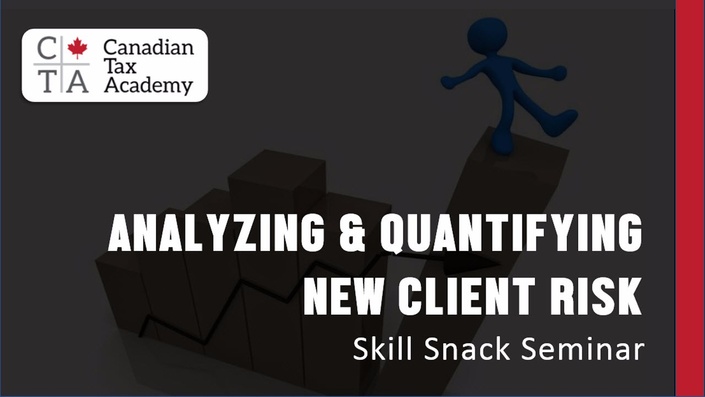 How to Analyze & Quantify Risk on a Client File
Know what you are getting into before you take on that new client
One of the many challenges faced by public practitioners in today's business and accounting environment is trying to determine how risky a new client is to take into your firm.
With over 20 years of public practice experience, what I can tell you is that you should not just accept anyone and everyone that comes through your door. Or, if you do, you should at least be aware of what you may be in for. That's what this seminar is all about.
The brutal fact is that if you underestimate the risk associated with a client's tax and financial position you run the risk of:
being underpaid for your services due to the extra unanticipated work you will be required to do
being exposed to potential liability even if you have inherited the file from another accountant or bookkeeper
having many stressful and sleepless nights over how to fix problems you have inherited and dealing with a client who may be unaware of the issues
In this Skill Snack Seminar, I will provide you with a methodology that you can apply to those new clients that you inherit from another practitioner.
Included is a useful spreadsheet tool that I will take you through step-by-step to guide you through this analysis. You can then customize and incorporate the tool into your own practice and change it as you see fit to comply with your own thought process.
With this simple, yet powerful, checklist you will come up with a multiplier for your normal fees. In short, it will give you a glimpse into the future when dealing with this client.
Your Instructor
Ian DINovo is a professional accountant and Director of the Canadian Tax Academy. He has been practicing accounting and offering independent financial and business advice for over 15 years.
He is the creator of a number of courses dealing with business, tax and investment matters that are designed to make difficult topics easy to understand for everyone.
Frequently Asked Questions
When does the seminar start and finish?
The seminar starts now and you can access the content anytime you wish! It is a completely self-paced online seminar that you can use as a reference. It is presented in bite sized tutorials that you can easily access and reference later if you need a refresher.
How long do I have access to the seminar?
The seminar will remain available to you as long as the content is relevant and up to date. If any significant legislative changes are made, the content will either be updated or removed.
How long is this seminar?
This seminar is approximately 70 minutes in length. presented in 8 bite-sized tutorials